Time to get back into the swing of things with the Gear Review Opportunities.  Yes, Rebecca and I have been busy with "life stuff" recently, but we haven't completely forgotten the old dependable OBN and all you great bloggers.  As a matter of fact, kicking off the fishing season with this stellar offering sort of puts everything back into high gear!
Our friends at Abu Garcia have come to the plate (again!) with a great way to start off your fishing season.  They have agreed to send one OBN blogger a new Revo MGX baitcast reel, one blogger a Veritas rod, and one (very) lucky blogger a rod AND reel!  And – these aren't just your run-of-the-mill products.
The Revo MGX - the lightest Revo ever!
The next generation of the REVOlution continues with the 5.4 ounce Revo® MGX. The combination of an enhanced compact design with our ground-breaking X-Mag™ alloy frame and C6 carbon sideplates produce the evolution of ultra-lightweight low profile reel technology.
More than mere lightweight design, the Revo MGX features a unique Infinitely Variable Centrifugal Brake (IVCB-IV™) that sets the standard for cast control in all other reels. With 28 positions of external adjustment,

the one of a kind design allows fine tuning on the water without removing the sideplate. Additionally, the IVCB-IV system allows anglers to cast extremely lightweight baits, something other baitcaster reels struggle with.
IVCB-IV BRAKE SYSTEM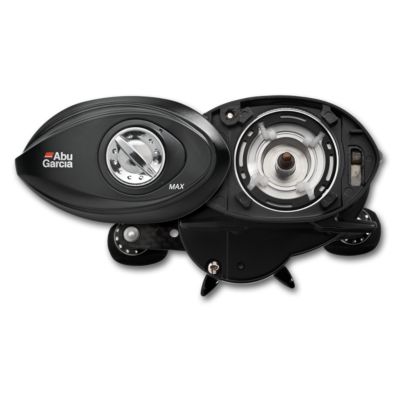 REVOLUTIONARY COMPACT DESIGN Because this reel is so much more compact and ergonomic than anything on the market today, we introduced new gear ratios for the MGX that provide similar line retrieve rates as other existing Revo reels. The Revo MGX 7.1:1 gear ratio provides similar inches per turn "IPT" to other standard 6.4:1 Revo models (28″ IPT). The Revo MGX 7.9:1 high speed gear ratio model provides similar IPT to other 7.1:1 high speed Revo models (31″ IPT).
Features:
9 stainless steel HPCR™ bearings + 1 roller bearing provides increased corrosion protection
One piece X-Mag™ alloy frame provides a super light yet extremely strong frame
Infini II™ spool design for extended castability and extreme loads
C6 carbon sideplates provide significant weight reduction without sacrificing strength and durability
Carbon Matrix™ drag system provides smooth, consistent drag pressure across the entire drag range
Aircraft grade aluminum main gear provides weight reduction without sacrificing durability
IVCB-IV™ Infinitely variable centrifugal brake gives very precise brake adjustments allowing anglers to easily cast a wide variety of baits
Compact bent carbon handle provides a more ergonomic design that is extremely lightweight
Flat EVA knobs provide greater comfort and durability
Ti coated line guide reduces friction and improves durability
Recessed reel foot allows for a more ergonomic reel design
Retail value – $349
[Note from Joe - I really don't need another reel, but when I started reading about this, I decided I want this reel!]
Next up – The Veritas Rod
Veritas™ rods provide extreme lightweight design and focus on the balance and compression strength anglers must have. The first time you hold the Veritas in your hand, you will be shocked how light it feels. Its balanced, lightweight design incorporates NanoTechnology™ into the rod construction for added strength.
Nano Technology provides 2.5 times the impact resistance of standard graphite rods through the manipulation of graphite on an atomic level.  This prevents microscopic nicks and dings that cause other rods to snap. Now you can count on your rod to stay intact when that all important fish is on the line.
The 30 Ton rating indicates a superior grade of graphite. The result is a lighter rod with increased sensitivity. The higher the tonnage, the stiffer the fibers used in the construction of the rod. Stiffer fibers more efficiently transmit vibrations to your hand so you can feel more strikes.
Features:
30 Ton graphite construction with NanoTechnology for Decreased Weight and Increased Compression Strength
One piece double anodized aluminum screw down creates a secure connection with the reel
High density EVA handles are more durable and comfortable
Abu designed extreme exposure reel seats provide direct finger to rod contact for increased sensitivity
Titanium alloy guides with SiC inserts create a lightweight, balanced rod design
Texas-rigged hook keeper for all bait applications
1 piece rod
Retail Value $99
There you go – what a  great way to kick off the fishing season!  And, since I was a bit late in getting this posted,  we will draw the winners MONDAY night instead of the usual Sunday drawing.  That gives you all an extra day to dream about using these great products.  IF the RNG smiles upon your comment!
I highly recommend that you click onto the Abu website and check out some of the video on the pages for these products – very impressive!
Before you pull that comment trigger: Gear Review Opportunity is open to OBN Members with an Active Blog on the Outdoor Blogger Directory. By Commenting on this Entry you confirm you have read the Reviewer Guidelines and agree to the terms and conditions. Comments will be accepted until Monday at 5 p.m. MST. Winning comment (s) will be selected by the Random Number Generator and announced this coming  Tuesday on the OBN. Please check back to see if the RNG has shined upon you, we don't track down winners…
Thank you Abu Garcia for your support of the OBN!